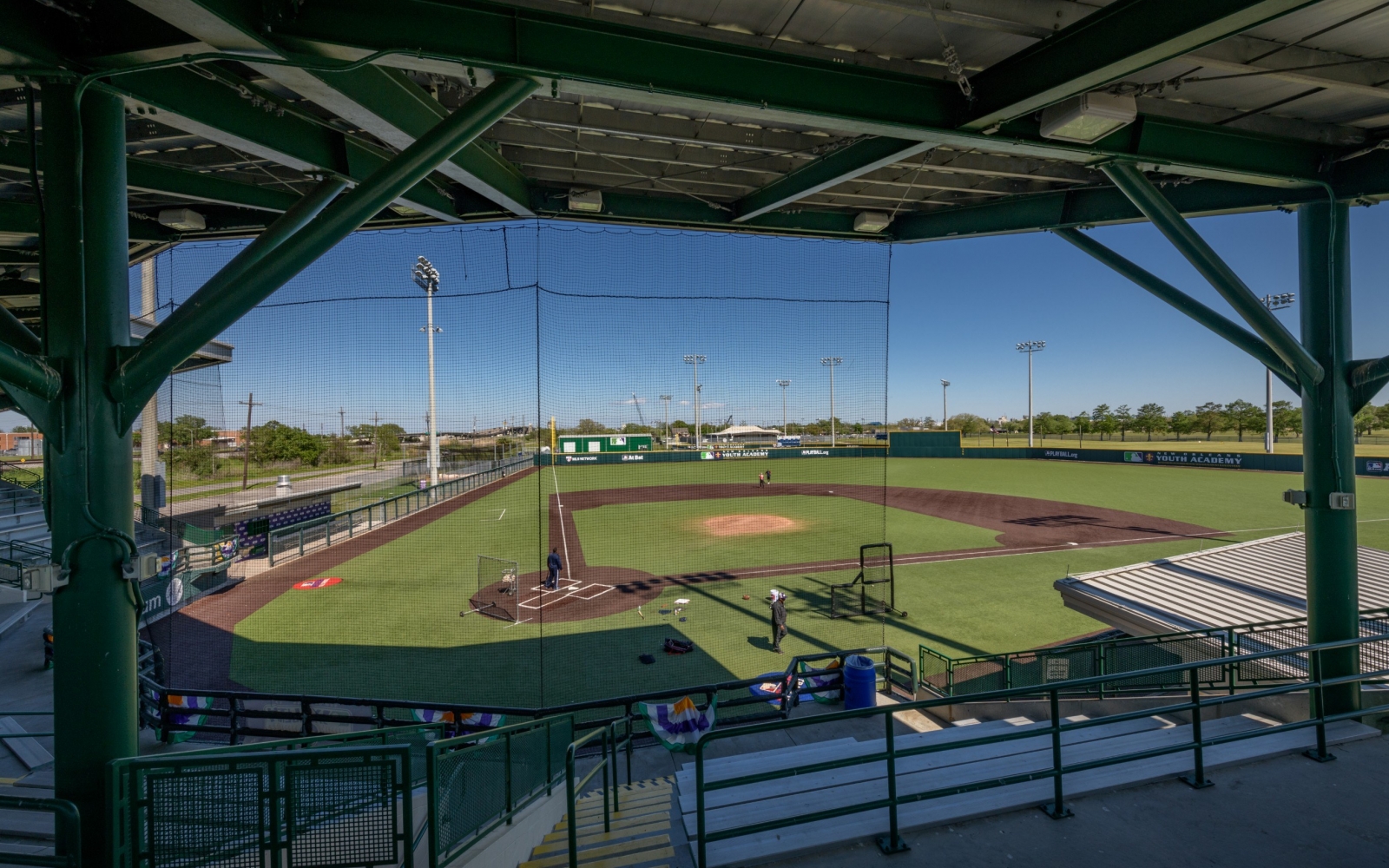 Wesley Barrow Stadium
Wesley Barrow managed, mentored, and influenced hundreds, conceivably thousands, of New Orleans-area youth. Known to many as "the Skipper," he died in 1965. Although some may not know Wesley Barrow the man, the playground that bears his name has served as the backdrop for many local boyhood memories. "Growing up, we played NORD football games at Barrow," Frank Veal Jr. recalled. "My fondest memories were winning the Lakeshore District Championship for Milne/St. Raphael."  
The Pontchartrain Park neighborhood was the first suburban-style subdivision developed by and for middle-class African Americans during the era of racial segregation. One of its pillars was Wesley Barrow Stadium, which opened in 1957. While Pontchartrain Park opened the door for many African Americans to own homes, Wesley Barrow Stadium provided the field for many youths to dream and achieve, as no facilities existed for young athletes of color to participate in baseball and or softball. Frank Veal Jr. also played baseball at Barrow as a student athlete at St. Augustine High School. "We played our home games there," he remembered.
Pontchartrain Park flooded in the aftermath of Hurricane Katrina, and like the community, Wesley Barrow Stadium came back. A renovation took place thanks to Major League baseball, the city, and FEMA, reopening in November of 2012. St. Augustine High School Athletic Director Barrett Rey was present for the event. "When we used to play there, the biggest thing was how big the field was," he remembered. "I was gone 24 years, and I missed this. Makes me happy to be home." 
The field obviously appeared big to a then twelve-year-old baseball player, but Rey never imagined the stadium would play such a huge role in his athletic and professional journey. "I played there for little league, high school, went back to play in college and then later, coaching at the field as Coach of Grambling State University's baseball team," he said. "It's come full circle or me." 
Proving the investment in this recreational gem was limitless, the 650-seat baseball and softball stadium now includes a 200-square-foot climate-controlled press box, a public-address system, and LED scoreboard. The baseball field features professional-sized artificial turf with a clay pitcher's mound and two fenced bullpens—different from what Rey remembered during his days of youth baseball. "The transformation was huge," he stated. "Home plate was in right field, so they literally turned the whole stadium around; with the all turf surface and everything else, it really turned into a state of the art facility." 
The facility has three fields, two-lane indoor batting cages, a t-ball field, and a softball field which also includes grass tee-ball fields and a three-lane outdoor batting practice cage. It also includes administration facilities and two 300-square-foot conference rooms. Serving as the current site of the Major League Baseball Urban Youth Academy, free year-round baseball and softball instruction and other educational services for youth from underserved and urban communities throughout the southern part of the state are also provided. More than 1,500 youth can take advantage of all Wesley Barrow has to offer. "The city needs this," Barret Rey believes. "Some of its story may have been lost over time, but I think it could be rewritten." 
The new and improved facility, with the help of a new generation, will now add more chapters to the history of Wesley Barrow Stadium.