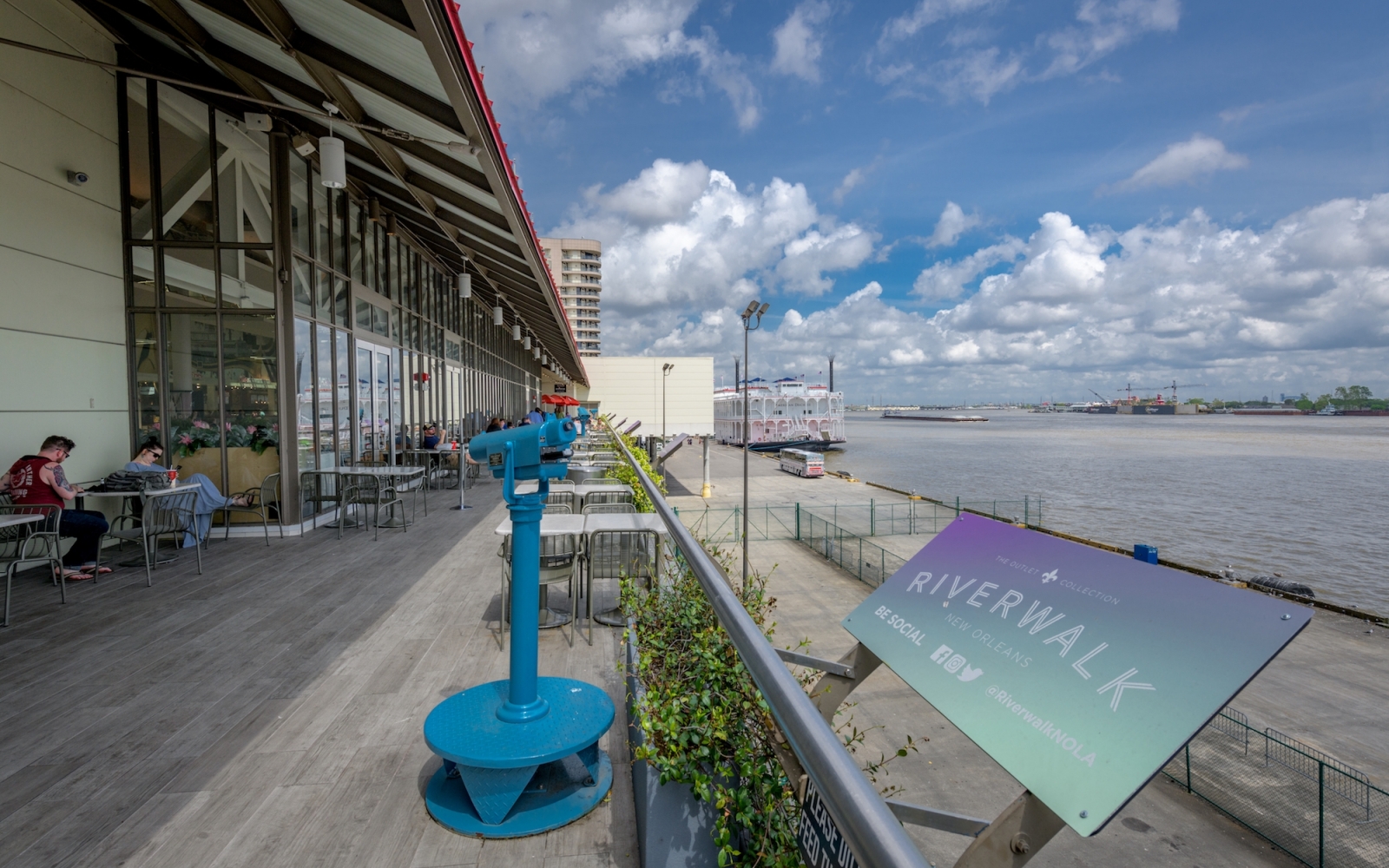 The Outlet Collection at Riverwalk
Nineteen eight-six saw the grand opening of the Riverwalk Marketplace, a downtown destination offering the perfect blend of specialty shops and eateries with an all-encompassing view of the mighty Mississippi. Just two years after the opening of the World's Fair, the Riverwalk, along with the Morial Convention Center, served as beacons of the development currently known as the Warehouse District. "The Riverwalk has such a great history and we're situated in a great location; the heart of downtown of course, along the river," Marketing Manager Laura Gurievsky states. 
The shopping center had not received any updates for nearly three decades, but a full renovation took place in early 2014. The Riverwalk Marketplace reopened as the Outlet Collection at Riverwalk, making it the nation's first downtown outlet center. The reimaging brought on reputable fashion staples like Last Call/Neiman Marcus and Nordstrom Rack to the mall together with local favorites like the Fudgery, Mike Anderson's Seafood, and Café du Monde.
With the center running about a third of a mile long, the Riverwalk is no longer just a shopping destination. It welcomes visitors by way of a variety of cruise ships; it's a new brand with a look. The mall's new design includes various interior and exterior branded archetypical elements along the structure, along with directional, wayfinding, and other items of specialty environmental signage and graphics.
Despite its modern makeover, it still embodies a welcoming energy that often brings people down to simply walk along, sightsee, and enjoy the scenery. The Riverwalk has become a space synonymous with Jackson Square when it comes to downtown tourist destinations. "I love the togetherness, and the openness of the mall," says Riverwalk Security employee Donnike Gurley. "It's a happy place. I work here, yes, and I also shop here too, I admit."
With the glistening waters of the Mississippi over one's shoulder on every level, and the view of the Big Easy sky through the atrium ceilings, there is seldom buyer's remorse when locals as well as tourists make the trip down to the Riverwalk.