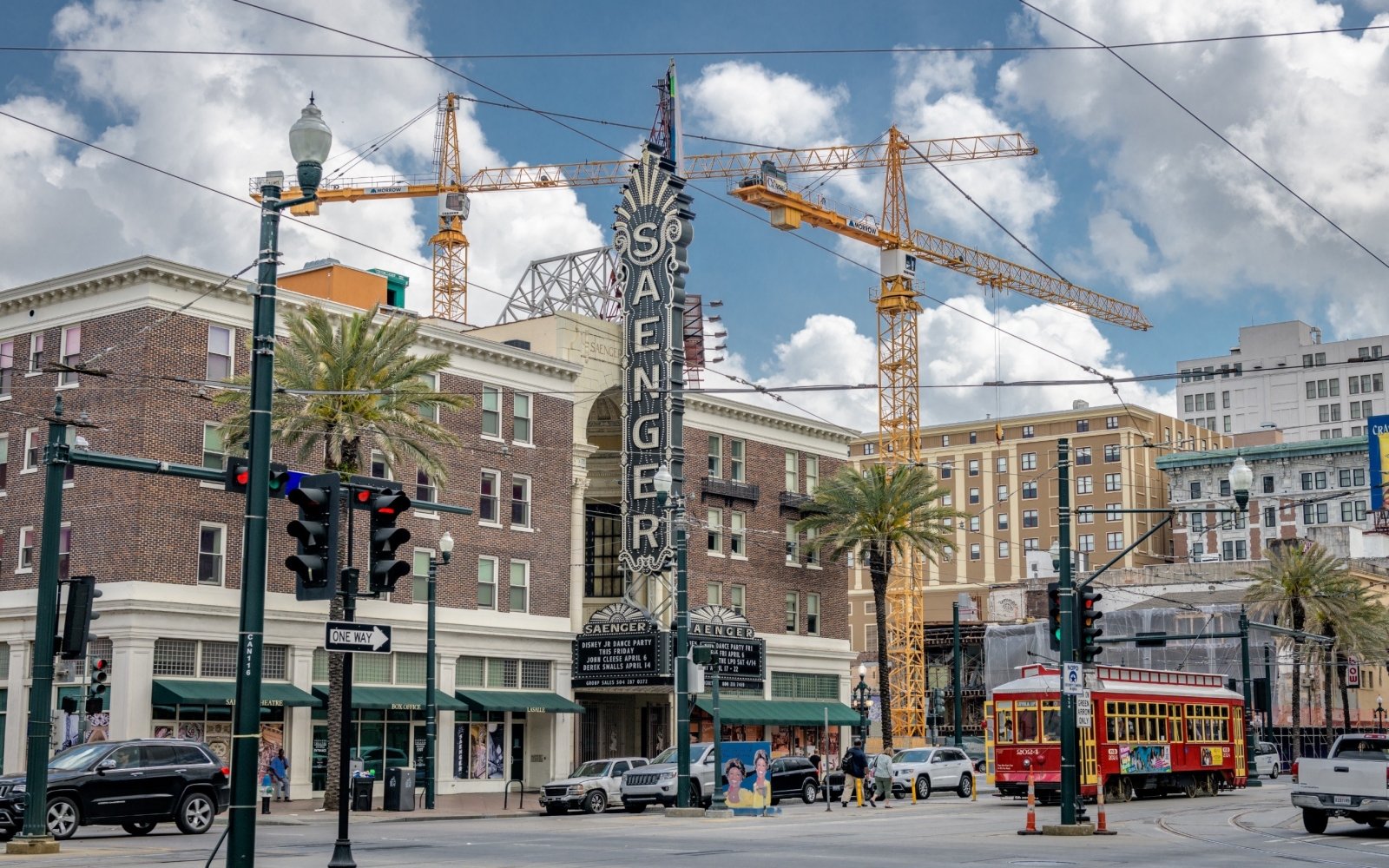 The Saenger Theatre
The historic Saenger Theatre is an iconic landmark for many residents of the city of New Orleans. Even from several blocks away, the gleaming golden letters on the corner of Canal and Rampart Streets beckon passersby, bringing to mind a bygone era of glamour and Hollywood splendor. 
The theater, which in 1977 was designated a historic landmark by the New Orleans Landmark Commission, is also on the National Register of Historic Places. After sustaining severe damage from Hurricane Katrina floodwaters, the city's beloved home for comedy, opera, and off-Broadway shows sat vacant for years. 
Designed by architect Emile Weil, the movie palace opened in 1927, took roughly three years to build, and cost $2.5 million. The structure's interior was fashioned to resemble a fifteenth-century Italian Baroque courtyard, with lights arranged like the constellations of the night sky, towering arched ceilings, decorative moldings, and tall columns, prompting newspaper accounts at the time to liken it to a "land of medieval romance."
The theater's original owner, Julian Saenger, sold the theater in 1929 to Paramount Publix, and throughout the years, the theater changed hands several times. In 2010, the City of New Orleans entered into a long-term lease with the property's private owners, the Houston-based Saenger Theatre Partnership, Ltd.
When the August 2005 storm hit, the theater was in the midst of a major renovation. It suffered significant damage from the floodwaters, which filled the basement and orchestra seating area, as well as the administrative offices and the box office facing Rampart Street.
Following the storm, the theater remained closed and in disrepair for eight years. In early 2012, a $52 million restoration of the theater began, which included funding from federal grants, state and federal tax credits, and private financing. The restoration was a joint effort from the City of New Orleans, the city agency Canal Street Development Corporation, and the Houston-based ACE Theatrical Group. After undergoing a complete makeover, the theater reopened in September 2013.
Now, the downtown playhouse once again evokes the luxury of the Italian Renaissance with the historic décor restored, including the sprawling 2,600-seat auditorium—a sea of crimson seats and ornate lighting fixtures—all restored from the originals. All of the design details, a project of the Washington-based architecture firm Martinez + Johnson, help to evoke a bygone era, and none perhaps more so than the golden, gleaming lights propped over the entrance way and atrium arcade on Canal Street.