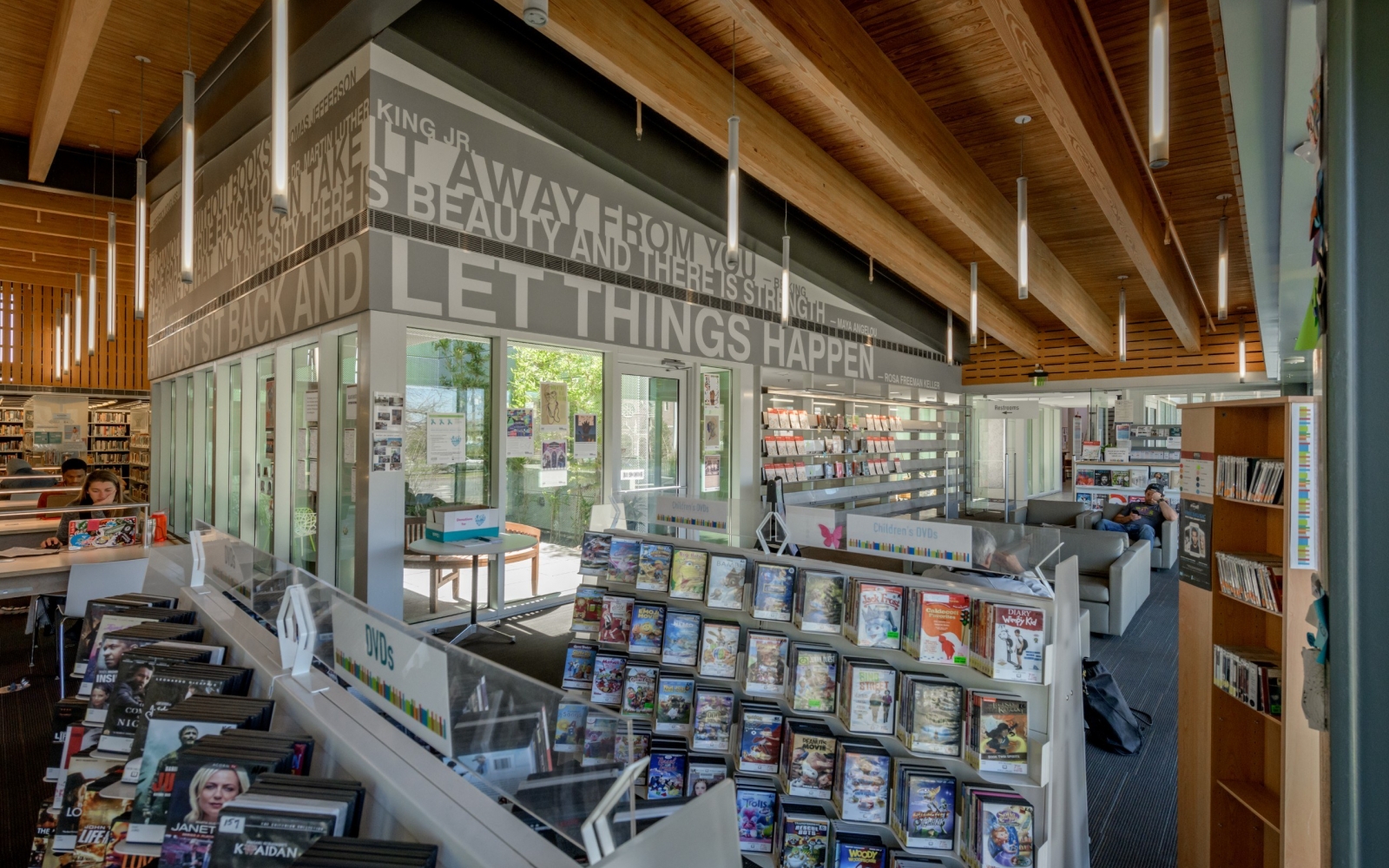 Rosa Keller Library
The gleaming new Rosa Keller Library is set at the curve where Broad Street meets Napoleon Avenue, a major intersection in this part of town. The Keller's very presence is a triumph over one of the most difficult crossroads Broadmoor residents faced after Hurricane Katrina.
In early 2006, the Bring New Orleans Back Commission designated six low-lying neighborhoods, including Broadmoor, as "green dots," which were not to be redeveloped but would instead become parkland. Part of a doomed proposal to shrink the flooded city's footprint, the concept was based on the notion that resources would never be sufficient to rebuild the entire city. 
But the Broadmoor neighborhood became a city success story as it fought back. During those lonely post-Katrina days, when many blocks had few full-time residents, locals banded together to rebuild Broadmoor's homes along with places that brought them closer together, like Keller and the adjacent historic, Mission-style home, which had served as a community center. While the New Orleans Public Library deliberated over which branches to re-open, Broadmoor secured $2 million from the Carnegie Foundation to re-do Keller and then pressed FEMA to supply most of the remaining money needed to rebuild.
Neighbors were also determined to rebuild smarter, to help manage the rainwater that needed to be pumped out during storms. The Keller became one of the first "green," LEED-certified buildings to spring up after Katrina. The roofs of both buildings funnel rainwater to a point in the front where it flows into a bright-green rain garden. Water from the parking lot also drains to a single point, to be held in a bioswale, reducing storm-water runoff from the site by nearly 60 percent.
Through the rebuilt library and community center, Broadmoor neighbors are still coming together. All day long, people walk in to read newspapers, return books, use the library's computers, or attend meetings and classes. One afternoon, a group of gray-haired women held a book club meeting in one room of the community center while an English as a Second Language conversation group met in the room next door. Later, parents came to bring their little ones to the library for a children's story circle. At the far end, in the room overlooking the curve of the road where Broad and Napoleon meet, two middle-school boys did their math homework while rush-hour traffic passed through a neighborhood that refused to become a green dot.