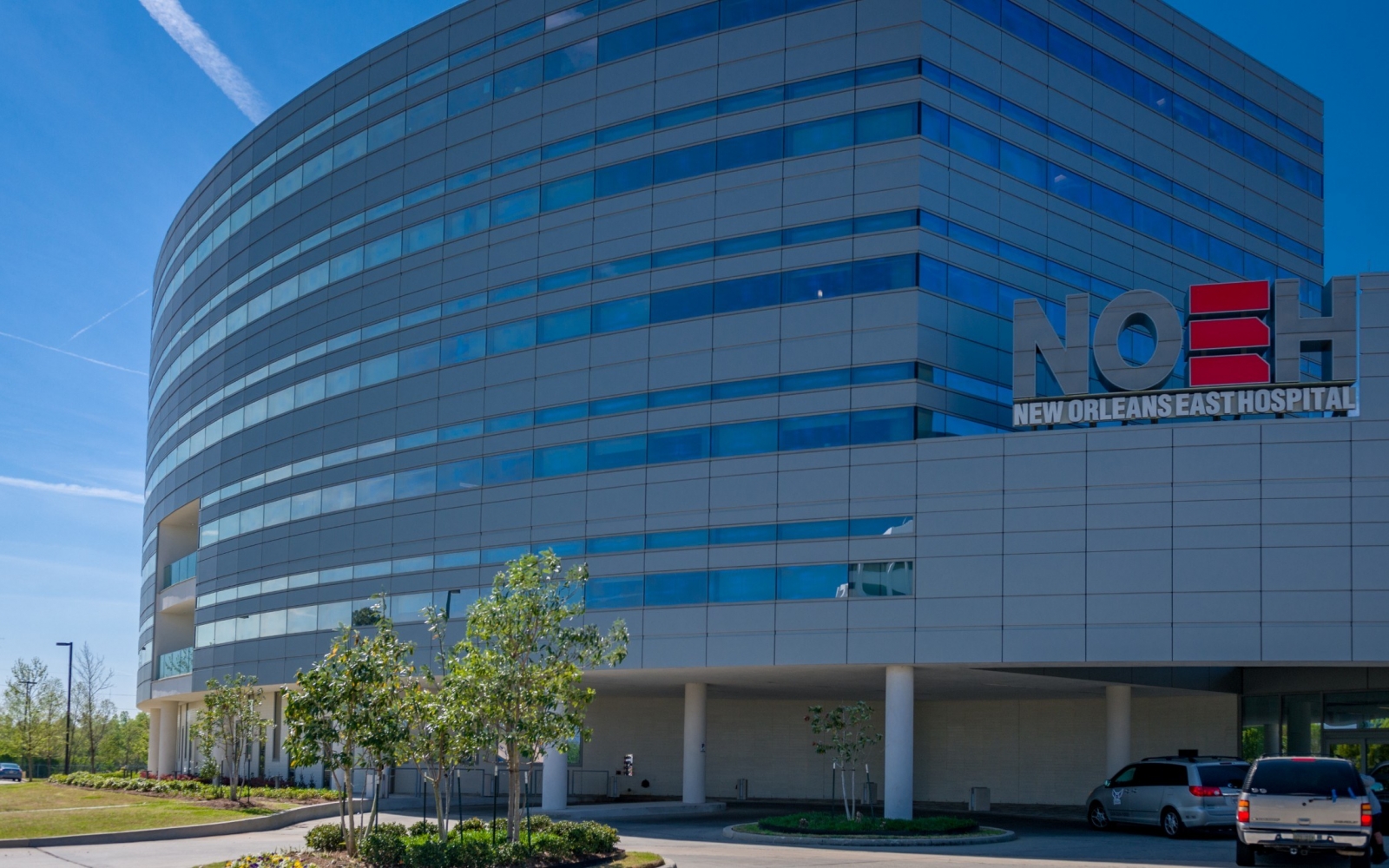 New Orleans East Hospital
Neighbors who came to watch the New Orleans East Hospital re-open on Read Boulevard in 2014 saw the $130 million project both as a lifeline and a return to normalcy, they said. "The hospital reinforced the idea that the city was planting the flag, that it wasn't giving up on New Orleans East," said Mark Ripple of Eskew-Dumez-Ripple Architects, which worked with Manning Architects on the design. "It was a move made to fulfill healthcare needs, but it was also symbolic."
The way in which architects designed the new hospital, with hurricane threats in mind, allows it to withstand winds and flooding without losing patients. The eighty-bed hospital provides emergency, acute, and primary care to an area that hadn't had health-care service since Hurricane Katrina, when Pendleton Memorial Methodist Hospital was shuttered. Until the hospital had been built, some neighbors hadn't wanted their elderly parents to return to eastern New Orleans. People with small children simply felt more comfortable once they had a family doctor close to home.
Much of the former hospital was demolished, but the existing six-story patient tower was renovated and a new building was added adjacent to the tower. But the architects also re-thought the way the tower worked, given the flooding the building had experienced when the levees broke after Katrina. "We designed everything so that, if the first-floor flooded we would have everything we needed for the next 36 or even 96 hours to provide minimum care, to be able to save lives," Ripple said. Still, the entrance into the first-floor lobby is stunning, with glass on three sides providing diffused light into a six-story atrium. 
The emergency department is located on the second floor with a ramp that goes up to an elevated deck, where ambulances drop off patients. If water rose again, that could be useful, Ripple said. "You could stage boats there."
The central equipment that used to be on ground level is now on the roof, so the chillers, boilers, and emergency generators can continue to run even if flooding occurs. "We call it an upside-down hospital," Ripple stated.
 All windows also meet the newly revised New Orleans building code, which requires they be "Miami-Dade County large-missile impact-resistant" to withstand wind-borne debris during a hurricane. To meet that standard, windows must not shatter when hit twice by a nine-pound two-by-four shot from a cannon at fifty feet per second. "They'll crack but not fail," said Ripple, who sees it as similar to how glass stays within a shattered car windshield to protect those inside. The design also incorporates rain gardens and storm-water retention ponds that reduce runoff by a significant amount. This reduces the amount of water that has to be pumped up and over the nearby levee, but it also creates lush, green grounds for those who visit. "We said, 'Hospitals can be an emotional space. What better way to lift people's spirits than to give them a beautiful garden and a gracious green canopy to walk past?'"