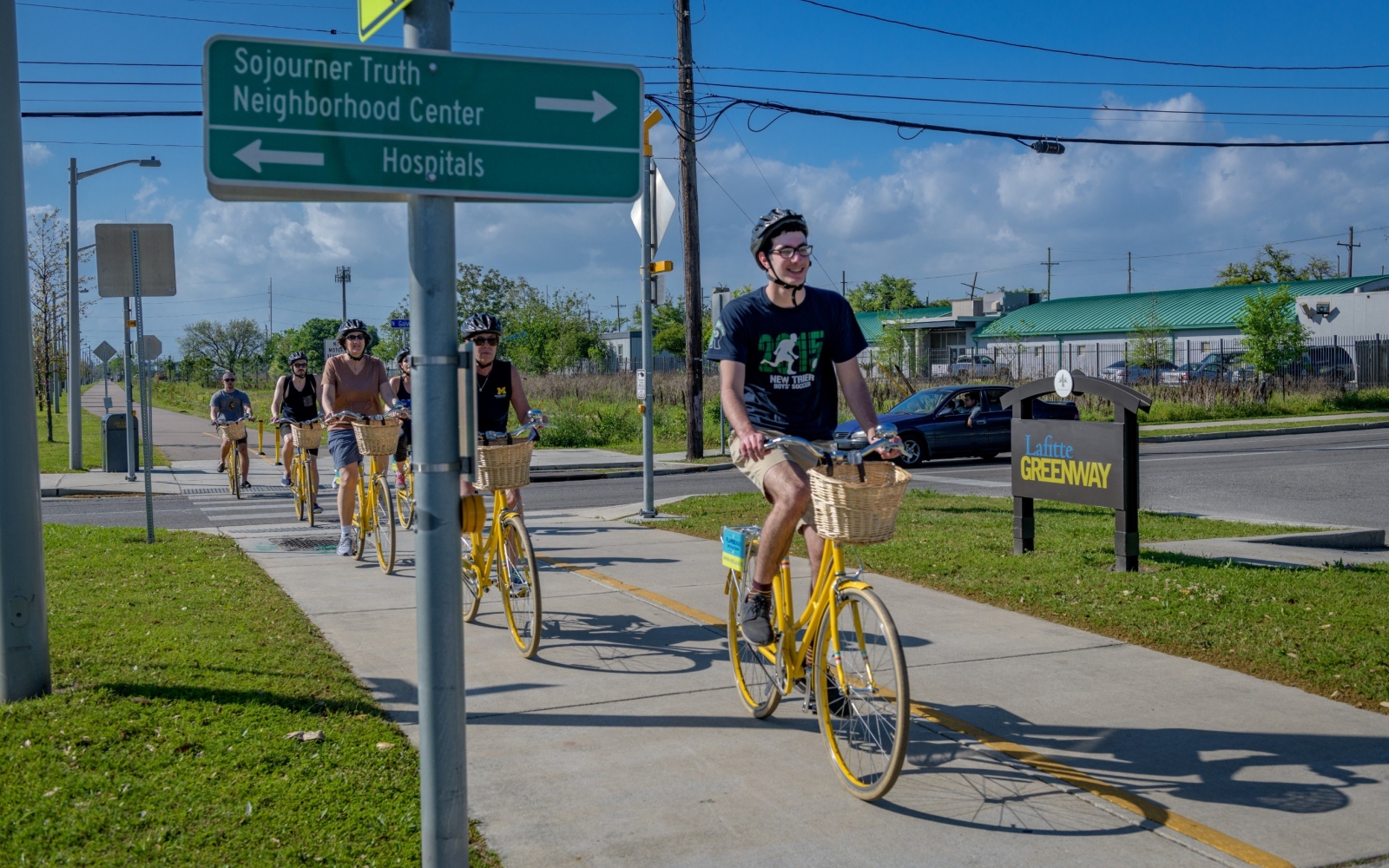 Lafitte Greenway
In some ways, the Lafitte Greenway simply follows a national "rails to trails" template in taking an unused railroad corridor that was once a canal and transforming it into linear paths and parkland. But there's nothing formulaic about the way the Lafitte Greenway is used: watching the people who move through it on any given day is to see New Orleans on display.
In mornings and evenings, commuter bicyclists intently speed along the 3.1-mile asphalt path, which runs from Armstrong Park to City Park. More casual bicyclists pedal a little slower, taking a ride or merely moving from one place to another without the same sense of urgency. Children run and play, joggers burn off calories, people walk dogs, teens skateboard or throw a football back and forth. Near Jefferson Davis Parkway, volleyball teams compete back and forth over a net located near the space while two young men sit nearby, eating crawfish from a little cooler. Wherever the Greenway meets busy streets—North Claiborne, Galvez, Broad, Jefferson Davis, and Carrollton—pedestrians and bicyclists can push a button to trigger a flashing beacon to alert approaching drivers to stop.
All of these puzzle pieces fell into place once a group of citizen activists called Friends of Lafitte Corridor formed in 2006. They researched similar uses in other cities, helped raise money for the trail, and talked with people all along the route about ways to make the path uniquely New Orleans. Once the space opened in 2015, the New Orleans Recreation Development Commission became responsible for upkeep and maintenance.
The history of the land itself, as a working canal stretching nearly to the Mississippi River, inspired an innovative sculpture that now sits where the greenway meets Bayou St. John / Jefferson Davis Parkway. Artist Michel Varisco designed "Turning: prayer wheels for the Mississippi River," an interactive piece with three nine-foot-tall, stainless steel wheels featuring iconography from the river's history. Visitors can turn solar-powered panels that illuminate the sculpture with dim blue light at night. As curious passersby in this space soon learned, spinning the wheels faster intensifies the light.