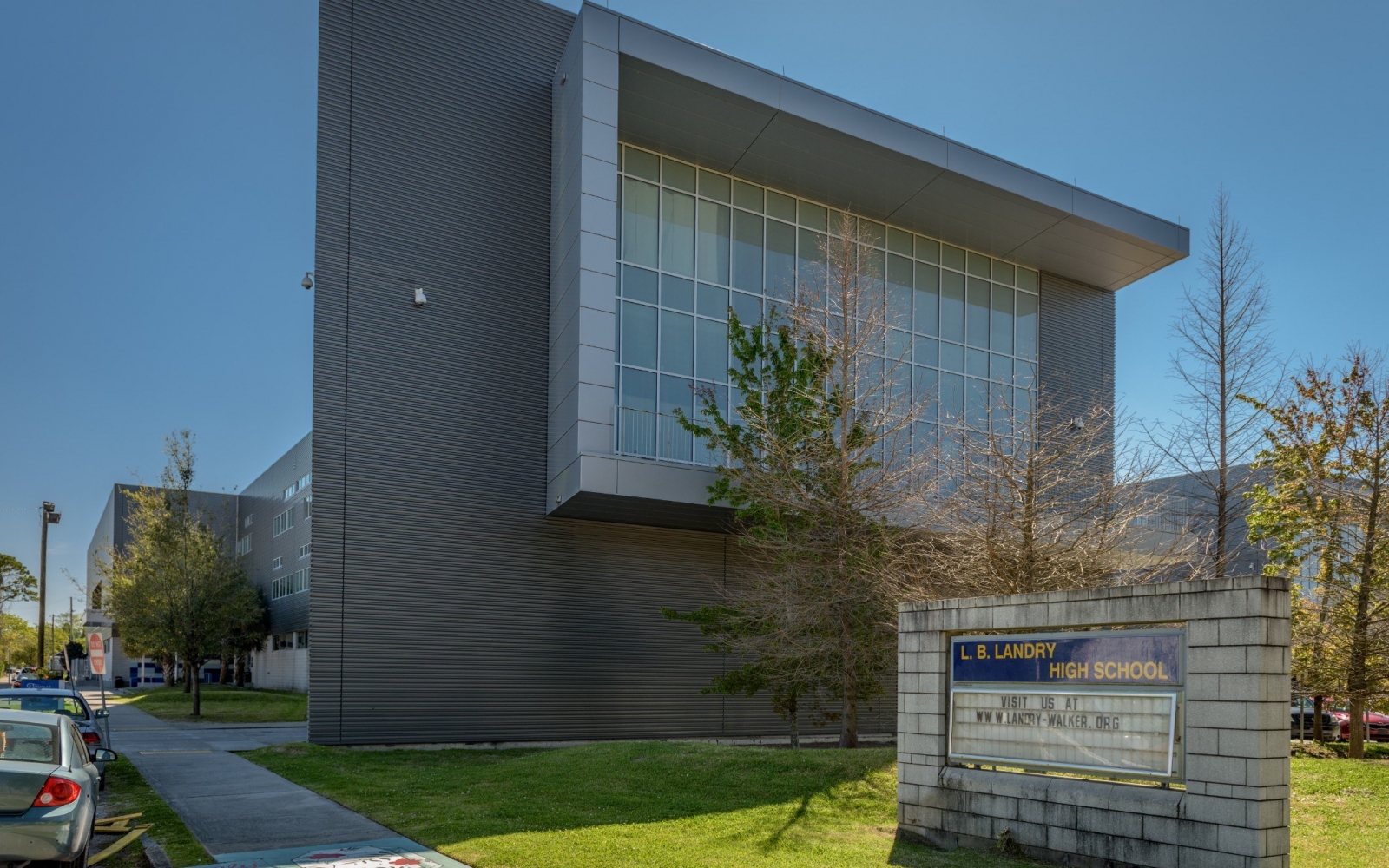 L.B. Landry - O.P. Walker High School
On New Orleans's West Bank, Landry–Walker High School's history spawns several decades. 
The Algiers School, initially called L.B. Landry High School, was named for noted African American activist and physician Lord Beaconsfield Landry. It first opened in 1938 as an elementary school. Eventually, the school became the first West Bank high school to enroll African Americans regardless of their income level. With the exception of a fire in 1958, the school remained open as a junior and senior high school until August of 2005, when floodwaters from Hurricane Katrina mostly destroyed the building.
Five years later, in 2010, the school finally re-opened in a new building, part of a $54 million project made possible by a $1.8 billion FEMA settlement. The school is part of the Algiers Charter network, which was founded in 2005 in an effort to provide educational opportunities to families returning home to New Orleans after Hurricane Katrina. The storm's catastrophic effects weren't lost on those who helped plan the new school, which is designed to withstand winds up to 130 miles per hour. 
Local architectural firm Eskew + Dumez + Ripple designed the massive new 214,000-square-foot campus, which now boasts two gymnasiums, a 650-seat auditorium, a health center, multiple science labs, and a vocational technology center. The school has four "academies" of learning, which include alternate career pathways for students that range from the visual and creative arts and humanities, to science and math-based information technology and engineering, to vocational skills such as electrical work, culinary skills, welding, carpentry, and small business ownership.
The school's ultramodern design features a bright central hall with floor-to-ceiling windows that overlook the school's sprawling lawn. The three-story U-shaped building features solar panels that adorn portions of the campus's rooftops, which heat water for inside use. Each classroom features interactive white boards and is designed to maximize sunlight—the building was designed to use as little electricity as possible. An athletic wing features a weight room, dance room, training room, and a Junior ROTC space. The band and choir room was designed with the help of an acoustic consultant so as to best amplify the voices and instruments being practiced within. A school-based community health clinic includes waiting areas and private exam rooms and was made possible through a grant from the Louisiana Public Health Institute (Lord Beaconsfield Landry ran a free health clinic in Algiers in the 1920s).
In 2013, the L.B. Landry High School merged with O. Perry Walker High School, and the name Landry–Walker caught on as the school's new colloquial moniker.