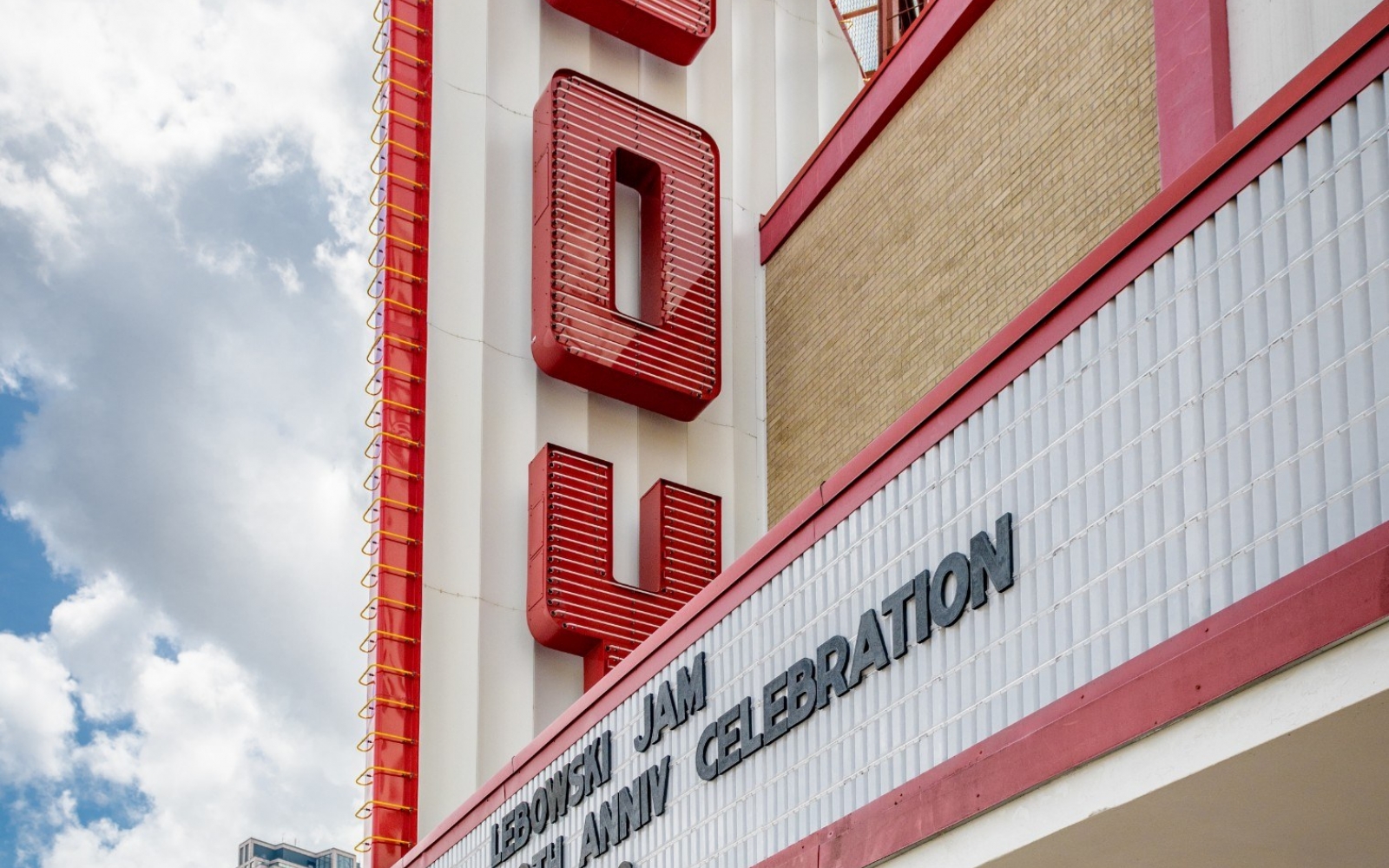 Joy Theater
The dazzling light that illuminated the corner of Canal and Elk Place, is iconic in its own right. Before locals walked through the doors of the Joy Theater and up the staircase with its shiny steel handrails swept up to the balcony, it was the art-deco marquee that grabbed the attention of moviegoers.

 As one of the four original downtown movie theaters, the Joy, as it's affectionately known by locals, opened its doors in early February 1947. Where it lacked the older theaters' elegances, the Joy epitomized streamlined design. It premiered with the Lucille Ball–George Brent film Lover Come Back, while the 1975 hit Jaws was one of the longest-running films at the Joy, showing for more than twenty weeks.
After its closing in 2003 (due to the influx of stadium seating and multi-screened movie theaters) and later Hurricane Katrina, many locals feared the Joy would never come back. But, in late December 2011, the bright marquee lights of the celebrated theater were turned back on, resurrecting the landmark as more than just a movie theater.
Thanks to the vison of Allan McDonnel, Joe Jeager, and Todd Trosclair, the Joy now serves a plethora of audiences thanks to a state-of-the-art stage rebuilt for live music, comedy, and theatrical performances. Everything from concerts to events in conjunction with the annual Fashion Week New Orleans have been held within its walls. Specifically, the Joy offers 10,000 square feet of multipurpose venue options, with fully re-purposed sound and lighting systems and holds up to 1,200 guests.
The Joy has even housed church worshipers. Back in the summer of 2012, Greater St. Stephen Full Gospel Church brought its 11:30 a.m. service to the downtown venue for the first time. The event was dubbed the Greater Joy Worship Experience. "There is a new sense of joy and purpose in this building; that has seen so much," Mayor Mitch Landrieu said to the congregation during the event.
Nelson Avery attended the service and decided to officially become a church member that day. He also recalled coming to the Joy many years ago. "I remember coming to the here; PLEASE REVIEW ORIGINAL QUOTE FOR WORDING with my girlfriend a long time ago—some good times here back in the day," he said.
Historically, it was the new kid on the block in comparison to the downtown venues like the Saenger and Orpheum, which graced the downtown area some twenty years prior. But it was the Joy that lead the post-Katrina theater district resurgence. The Joy was first downtown theater to let the lights shine again after dark days along Canal Street, and the marquee has glimmered ever since, with more good times to be had.