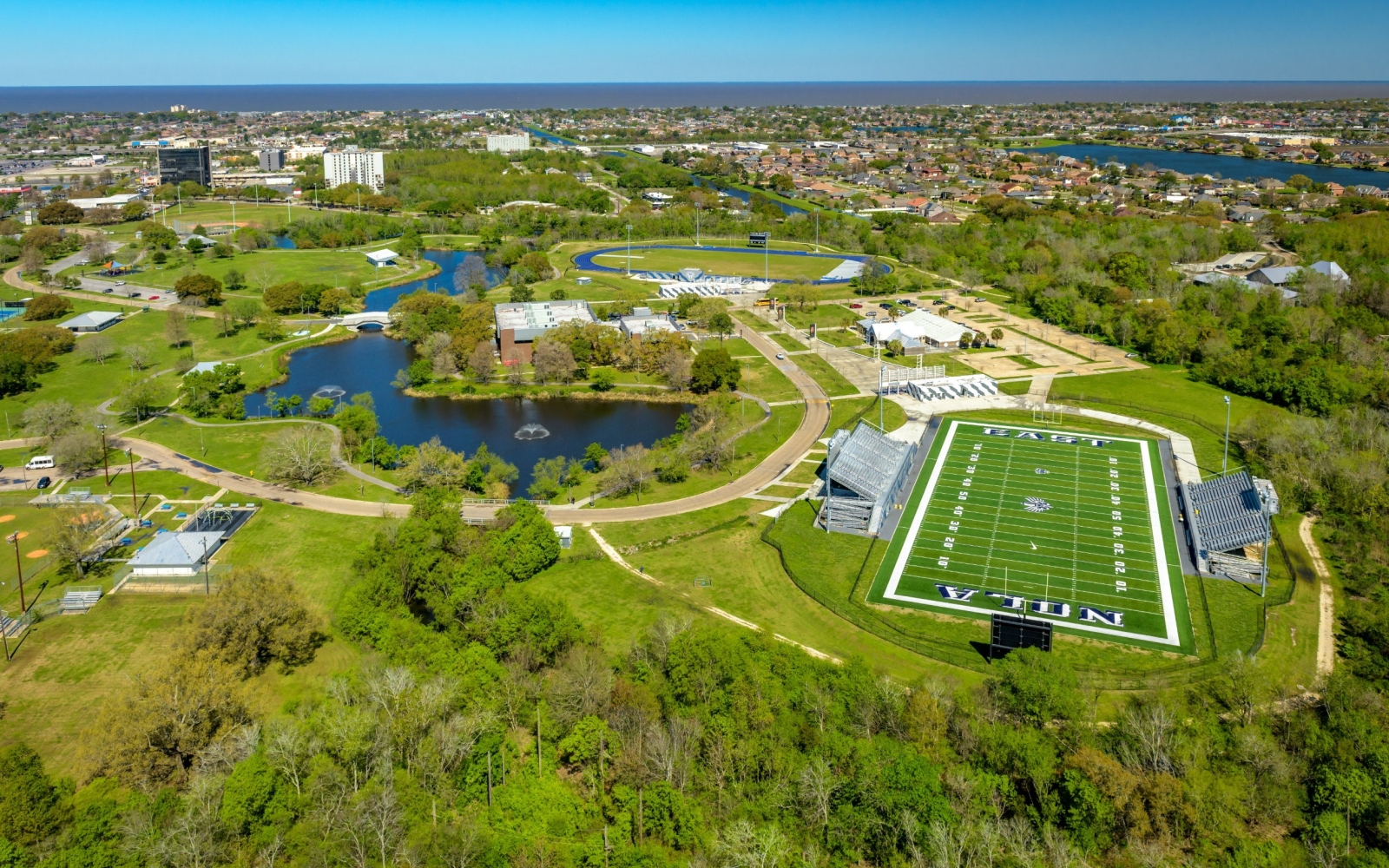 Joe W. Brown Park
Like much of the public infrastructure and neighborhoods in the New Orleans East area, nature haven and sports hub Joe W. Brown Park was nearly destroyed in Hurricane Katrina. The sprawling 163-acre park was submerged in floodwaters for several weeks after the storm, and most of its facilities were heavily damaged or destroyed.
 Dorothy Dorsett Brown first donated the park in 1959, in memory of her late husband, the oilman and philanthropist Joe W. Brown. The park's perimeter stretches between Reade Boulevard and Wright Road and borders Lake Forest Boulevard and Dwyer Road. In the decade plus since the storm waters ravaged the park, the yawning New Orleans East park has undergone multiple beautification projects and renovations, part of a number of city parks and recreational centers that have benefited from roughly $150 million in capital improvements since 2010.
The park now serves as a vibrant hub for the active sports community in the area and boasts several sports fields—baseball, football, track, and tennis, among others. In 2012, city officials unveiled a brand-new $3.8 million Victory Field football complex, which was built with the help of national retailer Nike, the Allstate Sugar Bowl, and a foundation set up by New Orleans Saints quarterback Drew Brees. Other areas of the park that benefited from the renovations include a recreation center, an eight-lane running track, and an indoor pool.
The park is also home to the eighty-six-acre parcel of land that is home to the Louisiana Nature Center, which opened in 1980 and in 1994 merged with the Audubon Center to become the Louisiana Audubon Nature Center. The center's mission of educating residents about nature and the environment is right at home in the lush park grounds, an area well-suited to long nature walks. The center was renovated by architecture firm Billes Partners, as were several projects throughout the park, which include the new entrance on Read Boulevard, additional pavilions, gathering spaces, and fishing docks, among other amenities. 
Nature enthusiasts can now take advantage of the large lagoon by canoe or stroll down one of the many paved paths that wind through the grounds. The park's thorough landscaping efforts took caution to highlight the area's natural vegetation and foliage and preserved many of the hackberry, ash, elm, and cypress trees and willow oaks.
One of the park's most recent infrastructure improvements includes a newly replaced bridge in the park, off Read Boulevard in New Orleans East, which now enables even better access to the park, and the communal areas provide public spaces for larger community events and festivals. Still ahead for the park is an estimated $1.6 million project, currently underway, to repave the park's roadway and curbs, sidewalks, and parking lot.