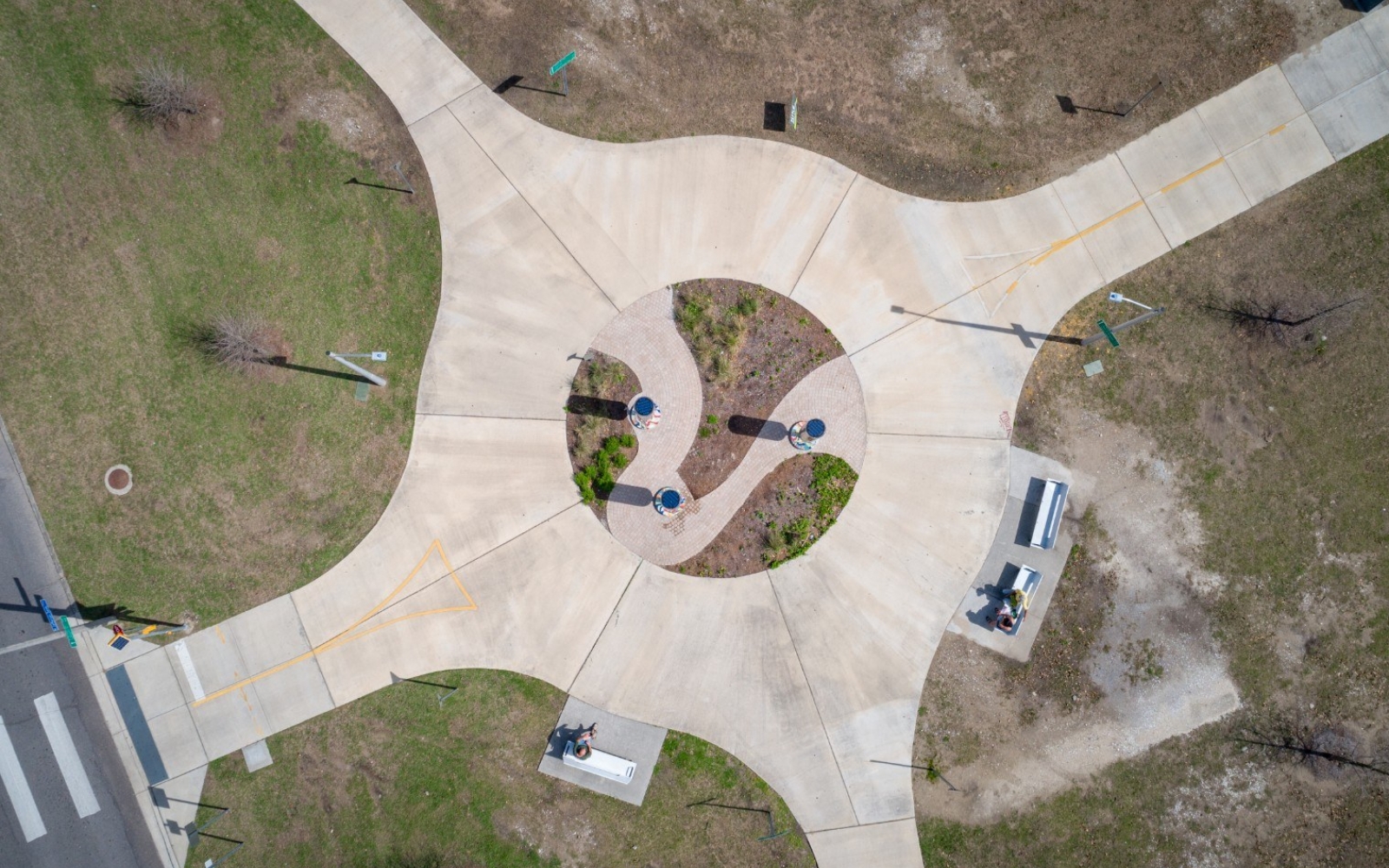 Equity Circle
In November 2016, the city unveiled a circular grouping of benches and trees in the neutral ground on Jefferson Davis Parkway. Called Equity Circle, it was located a half-block from Canal Street, where the Jefferson Davis statue stood until mid-2017. The peaceful little sitting area was the brainchild of the Carrollton Circle of Welcome Table New Orleans, one of eight neighborhood-based circles within Mayor Mitch Landrieu's citywide initiative launched in 2014 and focused on race, reconciliation, and community building.
In this instance, the neutral ground should be seen not so much as a dividing line but a safe place for conversations between people who might not think they have much to say to one another, said Michael Batterman, leader of the Carrollton Circle. "One of the hallmarks of a truly civil and just society is the ability of people to talk openly with each other," he said, noting that his Uptown circle chose to place their project in this part of Mid-City because of the area's diversity.
The benches and crape myrtle trees surround a blue-and-white tile "compass rose" labeled with New Orleans-style directions: lakeside, riverside, uptown, and downtown. 
Across town, other Welcome Table circles that had met for a few years also unveiled their own "culminating projects" in late 2016 and early 2017. Among them were a Mid-City Circle, which painted a collaborative community–history mural with artist Keith Duncan on the Lemann Pool building that borders the Lafitte Greenway. After conducting oral histories, an Algiers Circle also created a mural with artist Brandon "B-Mike" Odums, located under an overpass at the intersection of Mardi Gras Boulevard and Hermosa Street.
A Mothers Circle, made up primarily of mothers who had lost children to gun violence, mostly aimed to reconcile with the crime itself and those who had committed it. A Central City Circle dedicated a historical plaque to early civil rights activist Ernest Wright in A.L. Davis Park, where Wright spoke to crowds every Sunday starting in the 1940s, arguing for the right of African Americans to vote and be treated equally. 
A Business and Civic Leaders Circle examined the economics of the issue of race and, through a project called Threaux Inc., asked how New Orleans could create the capacity to make Mardi Gras throws here in this city instead of buying them primarily from China. A St. Roch Circle focused primarily on increasing economic opportunity.
A New Orleans East Circle worked with Ancestry.com to do DNA testing of circle members and then discuss the results they found. "There were a lot of 'aha' moments, as people realized that they had lots of representations of lots of ethnicities in their DNA," said Deputy Mayor Judge Reese Morris.
As a whole, Reese Morris said she saw the projects as "lasting signs of what is possible" when people are open to perspectives other than their own.