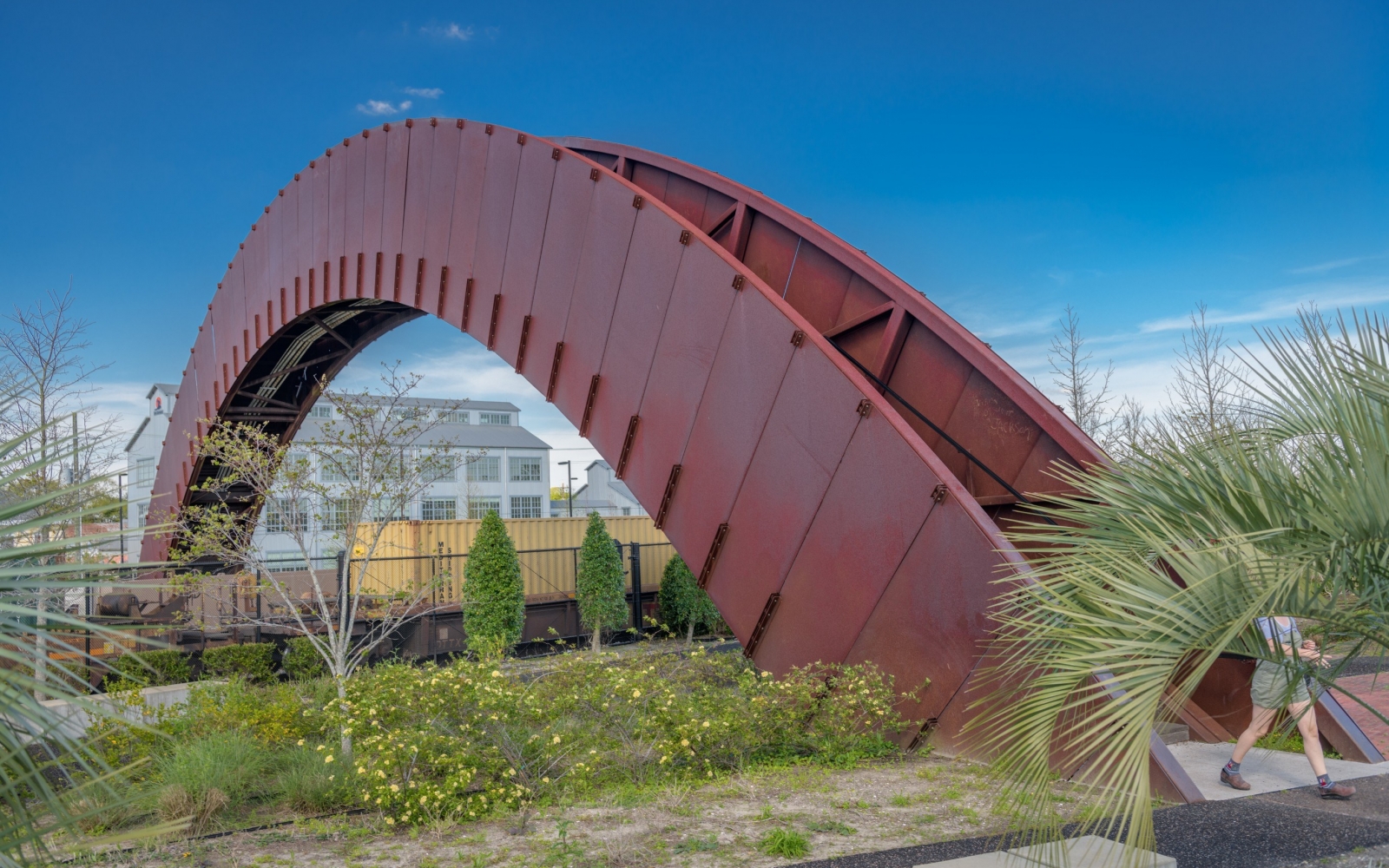 Crescent Park
"Meet me at the Rusty Rainbow." Just a few years ago, that phrase held little meaning. Now, it's a part of city's vernacular and certainly for those who call the Marigny and Bywater neighborhoods home. Here, the sprawling paths and promenade of Crescent Park hug the wide curves of the Mississippi River, offering unparalleled views of the city's skyline.   
Part of the French Market District, the 1.4-mile long, twenty-acre linear park runs from Elysian Fields Avenue to Mazant Street and includes picnic areas, running paths, event spaces, and a long walking promenade. The idea for the park, sparked during a 2006 meeting between officials with the City of New Orleans and the New Orleans Building Corporation, was to revitalize a stretch of the riverbank, once used for maritime commerce by the Port of New Orleans, and envisioned repurposing industrial wharves as communal open spaces. Local architectural firm Eskew + Dumez + Ripple oversaw the project, with the input of several international architectural consultants. Construction began in 2008 and portions of the park were rolled out in stages, with the project culminating in 2015. 
Now, rubber running paths snake past rows of flower beds and lush landscaping, where pedestrians, runners, cyclists, and dog walkers pass by. A cluster of picnic tables overlooks the remnants of the old Piety Street wharf, and on any given day there may be yoga classes, photo shoots, art markets, and concert series taking over one of the park's many inlets and multi-purpose pavilions. 
Though manicured, the park's architects made good use of the original and existing landscape and exercised effort in maintaining the maritime and industrial character in the process. A three-story wall, the concrete remnants of the old Piety wharf building, still stands, casting a wide shadow on sunny days. Though arguably the most arduous of the entrances to the park, the steep Piety Street Bridge crosses over the railroad tracks and offers a well-deserved reward at the top—breathtaking views of the city's skyline, the Mississippi River, Algiers, and the Crescent City Connection. 
In the fall of 2017, the city struck a historic deal, swapping riverfront properties with the Public Belt Railroad. A long-term vision now includes plans for the 3.2 mile Tricentennial Park, which includes redeveloping both the Esplanade Avenue Warf and the Governor Nicholls Wharf and the stretch between Crescent Park and the French Quarter's Woldenburg Park. When completed, it could be the longest uninterrupted public riverfront stretch in the country. 
Though the amenities offered by the park are manifold, perhaps its most important purpose is to connect the residents of the city of New Orleans with the great, wide, wild, and beautiful Mississippi River—the original life force of this city.