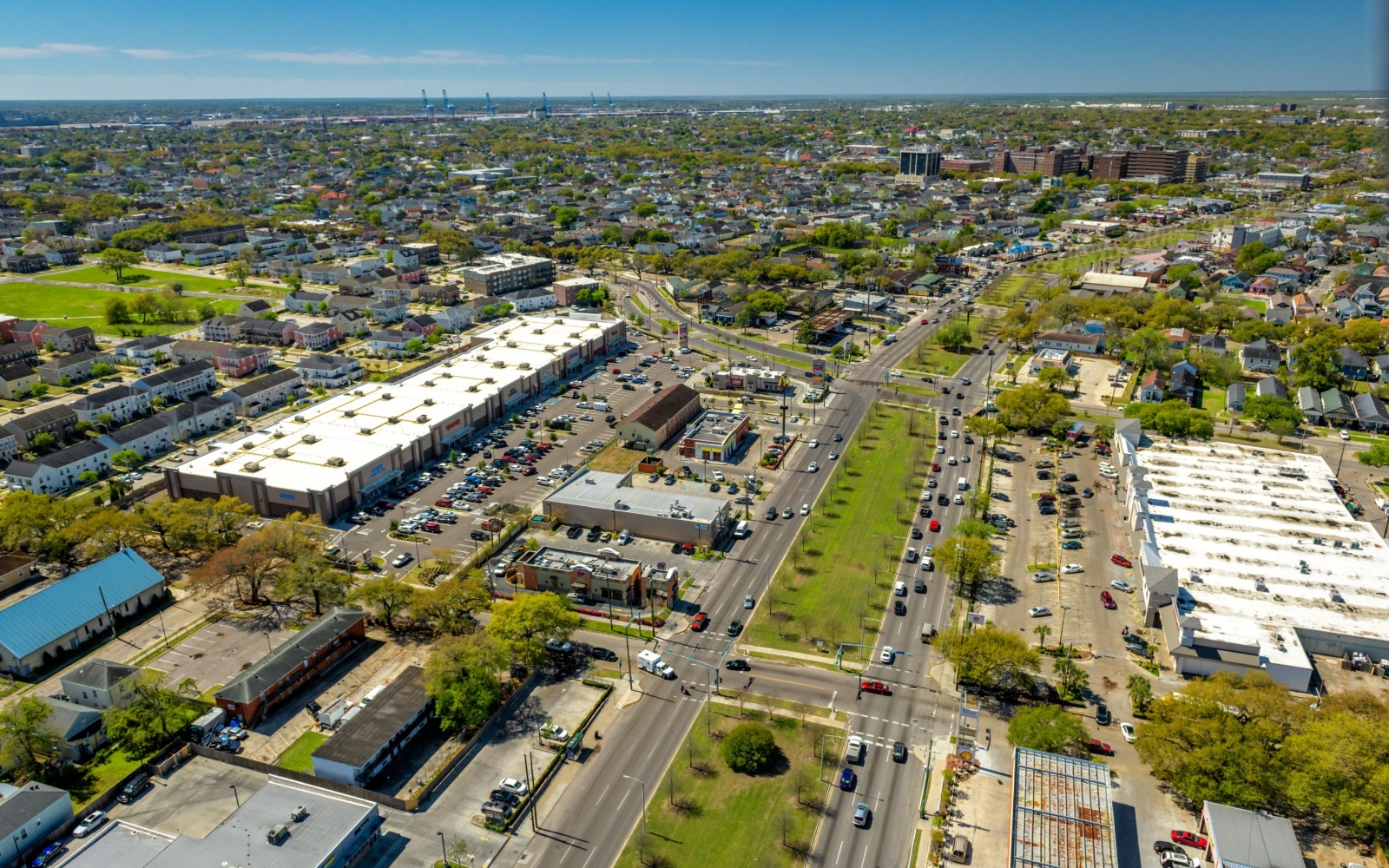 Claiborne Corridor
It's a familiar story for anyone who lives in New Orleans. In 1966, Interstate 10 was plunked down in the middle of the once-thriving span of North Claiborne Avenue. In place of the street's broad, grassy, neutral ground and a popular gathering spot lined with four rows of large live-oak trees, construction crews rolled out asphalt lots bracketed by massive concrete pillars to hold up the freeway. The only greenery in sight are live-oak trees that were painted onto the pillars as part of a mural project led by a group of artists including painter Richard Thomas.
A prime opportunity to remove that damage seemed to arrive in 2010. New Orleans received a $2.7 million federal grant to study how to revitalize that section of Claiborne, including the possible removal of that span of I-10 between Elysian Fields Avenue and the Pontchartrain Expressway.
Bass drummer Ellis Joseph liked the idea. "It would bring it back like it was in the old days when my grandparents and parents used to gather out here and chill," he said. His enthusiasm is shared by groups like the Congress for New Urbanism, which did a traffic analysis and concluded that Claiborne "didn't need to be a freeway" and was used primarily as a short cut between neighborhoods and for trips that averaged only 1.6 miles.
Not so fast, said older neighbors, who hadn't been asked for the input on the highway's construction and were wary of what would happen if it came down now. Some said they had grown accustomed to walking underneath the shade of the elevated expressway, bracketed by painted oak trees. They wondered if North Claiborne would turn into a traffic snarl if people no longer had the option of driving "upstairs" and "downstairs"—on the elevated segment or on the ground-level road. 
After a full year of meetings, people along the Claiborne Corridor couldn't reach a consensus about the expressway. So, the study's 2014 report uses a wealth of data to outline how the corridor's housing, jobs, transit, retail, and drainage might be improved in scenarios including the removal of that span of I-10 and identical scenarios retaining the expressway.
To further that work, the corridor received a 2017 U.S. Department of Commerce grant to transform a nineteen-block North Claiborne corridor, from Canal Street to St. Bernard Avenue, into a green marketplace "under the bridge" expected to create space for eight anchor businesses and fifty small and micro-businesses. The project, called the Claiborne Corridor Cultural Innovation District, is led by the city's Network for Economic Opportunity in tandem with the Foundation for Louisiana. The concept includes improved spaces for vendors, pedestrians, art displays, performances, and community events, which, for now, will be bracketed by live-oak trees painted onto concrete. But a 2017 design report about the district said it's ultimately about transforming the space's very spirit: "To heal what many view as an injurious structure, it must be truly transformed into a welcoming part of community life."