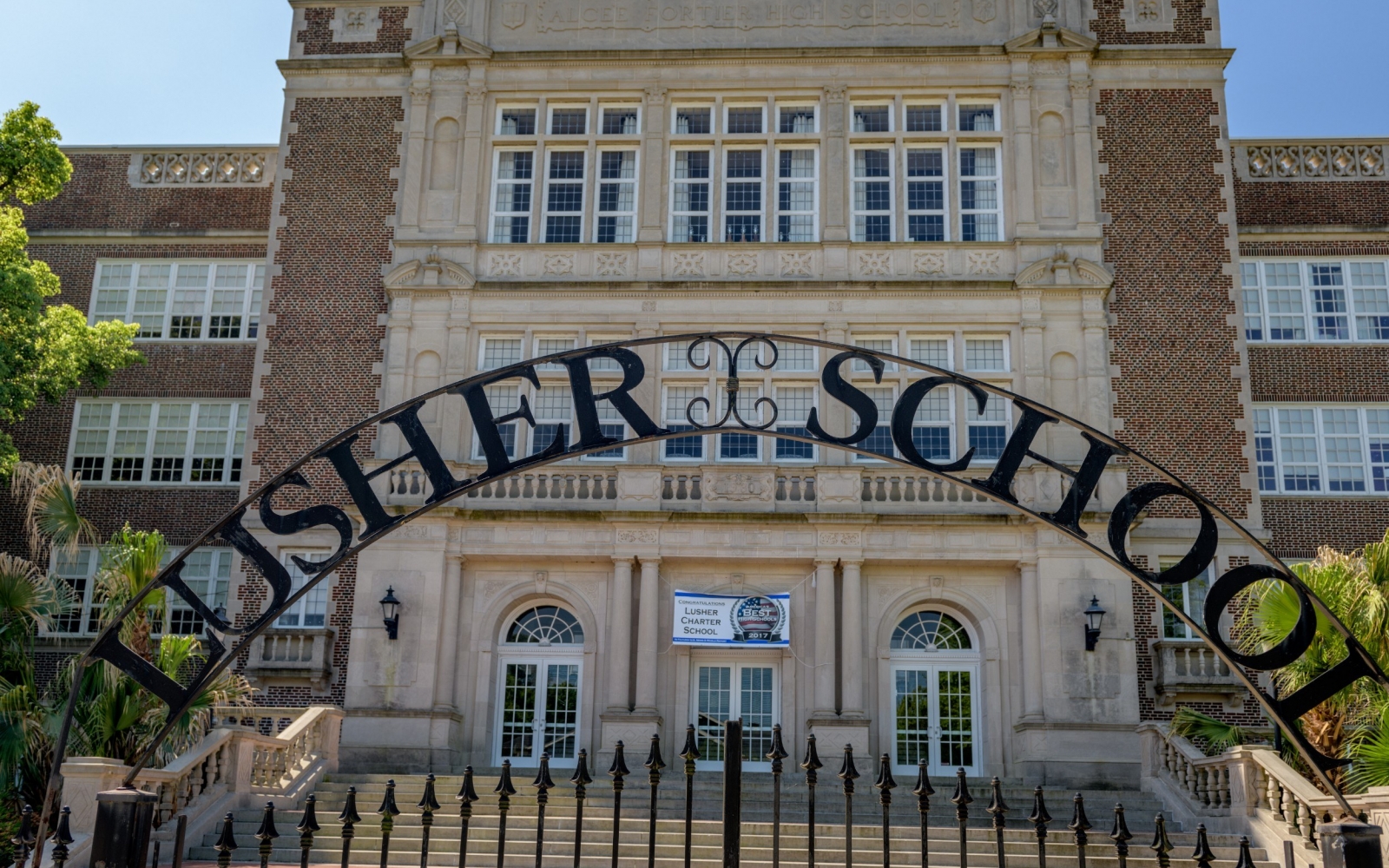 I think New Orleans is a different place. It's really different from all the other places I've been. It's really unique. It's crazy, but crazy in a good way.
Lusher School/Fortier Building
Where'd you go to school? It's a question that discernably has different meaning in New Orleans than in other cities. The years following Hurricane Katrina saw many storied high schools, graduating thousands, close their doors, ending long traditions and legacies.
Unfortunately, Alcee Fortier was one of those schools. With its identifiable arched iron entrance gate, one of the city's most renowned high school campuses thankfully got a chance to start anew. The history, stature, and location of the Fortier building spoke volumes in regard to the comeback of the uptown area. Everything from the front steps of the building to the river did not flood, while everything from the front steps of the building heading toward the Broadmoor area did flood. Just a block away, there was three to four feet of water.  
Lusher began as an elementary school on Willow Street back in 1913. Following Hurricane Katrina, and despite mold and mildew damage to its Willow Street campus, the school managed to reopen on January 17, 2006, as a charter school following an extensive rehabilitation effort.
At the center of these efforts was a partnership with SCNZ Architects that resulted in the design of a stabilization plan. The all-encompassing renovation included new roofing and exterior doors; restoration of the building's original windows; new HVAC; classroom and hallway lighting; renovations to bathrooms, classrooms, and lab space; exterior waterproofing; courtyard improvements; library renovation; and a new elevator. A new black box theater opened in 2017 in the Nashville wing of the building. 
Wiley Ates, Lusher's high school principal from 2006 to 2017, graduated from Fortier in 1966. Alcee Fortier's great-grandson, James Alcee Brown, is the attorney for Advocates for Arts-based Education Inc., the Lusher Charter Board. James Brown's son, Nicholas Fortier Brown, attended Lusher from 2006 until 2009. Many Fortier alumni remember Alfred J. Saulny Jr., a long-time educator. His granddaughter, Sage Allen, is a now a freshman at Lusher.